Ridgeline Adventures is 100% Wanaka owned
Established in 2008 by Mark Orbell, Ridgeline Adventures has grown to become Wanaka's premium operator of high country walks, 4WD safaris, and photography tours. Mark continues to own and operate the company alongside a small team of expert local kiwi storytellers.
Ridgeline Adventures experiences are unique, operating exclusively on private back roads of historic high country stations – West Wanaka Station (station is another name for a large alpine farm) and Dingleburn Station (Lake Hawea). Offering some of the finest scenery in New Zealand, fascinating history both human and natural Allows the opportunity to learn about authentic farming life makes any adventure with Ridgeline Adventures a once in a lifetime experience.
Conservation plays a huge part of each and every experience. Ridgeline Adventures supports many conservation initiatives both on West Wanaka Station and in the Wanaka area. We maintain more than 30 predator traps on West Wanaka Station to aid in the recovery of local native birdlife. All Ridgeline Adventures guests partake in this process by assisting our guides with the checking, maintaining and resetting of these traps. We also have a native planting project in association with the local council and community native plant nursery, Te Kakano. For each passenger Ridgeline Adventures takes we put a percentage of trip price back into purchasing native plants from the nursery to plant at our project site on the shore of Lake Wanaka. Another great way for our customers to give back to our Wanaka community.
Carbon Emissions
We appreciate that in the course of operating our experiences we create a carbon footprint. We have estimated our carbon footprint at 30.5 tC02 based on our 2019-2020 year. Our use of diesel vehicles contributes over 90% of this. With fuel use as a primary emissions source, a number of different methods could be used to aim to reduce consumption, from looking at fuel consumption rates of different vehicles to identify the worst performing vehicles to operational change such as reducing the number of trips by requiring minimum numbers to fill a tour. Operating vehicles with better fuel consumption rates is of course an ideal improvement but can require significant capital investment. We are in a position to fully control and influence this emission source and looking to reduce fuel consumption where possibl
Ridgeline Adventures is QUALMARK Gold accredited and has received Trip Advisor Certificate of Excellence every year since 2011 (if you don't count 2020 and New Zealand's closed border)
We are 100% focused on our community and sharing the love here at Ridgeline Adventures. It is something that underpins what we do.
We volunteer our vehicles and drivers for the annual Xmas Food bank drive here in Wanaka. Leading up to Xmas we join forces with Wanaka Police, fire brigade and locals to drive the streets of Wanaka on a pre organised evening collecting groceries people have left by their letter boxes. All food is collected and donated to Wanaka's local food bank.
During lock-down in 2020 we volunteered our vehicles and staff to help deliver groceries to Wanaka's most vulnerable members of the community. We had no work so we turned grocery deliverers……..Check out our video.
We are very lucky to have an exceptional pool of guides, all with a passion for Wanaka's incredible environment, giving back and sharing their wealth of local knowledge. Read on and get to know your guide.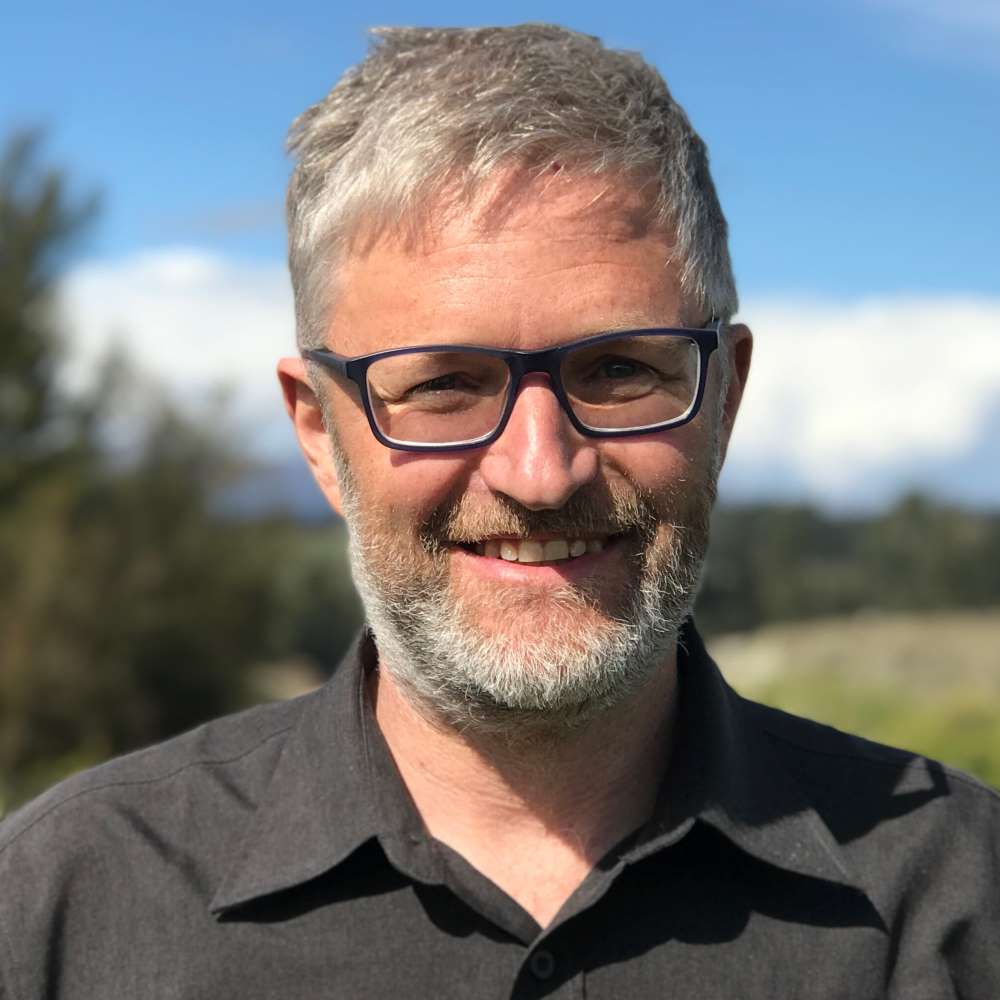 One of my earliest childhood memories is my parents showing visitors from overseas around our sheep farm near Dunedin, I guess with this background the great outdoors and international visitors have always been part of my life. I've worked for some great adventure tourism companies here in New Zealand over the years and now with a family of my own, my wife Ceri, Archie and Harris form the backbone of Ridgeline Adventures a company I formed in 2008.
I am also a photographer and have been published in many magazines, guide books, calendars.
We appreciate how very, very lucky we are to call New Zealand home and consider ourselves fortunate to be able to share some of Wanaka's hidden scenic and historical secrets to visitors from all over the world.
Not a day goes by where we don't stop and appreciate the simple pleasures of living in one of the most beautiful places on earth.
I hope you can someday come join us on a safari here in Wanaka, we would love to show you around!
I grew up in South of the South Island near the 'Catlins', another unspoiled part of New Zealand. I farmed sheep and cattle there for most of my working life.
My wife and I have been together for 39 years raising three daughters and now have seven grandchildren. We have had a home in Wanaka for nearly 20 years and moved here permanently in 2013.

We have an interest in landscaping and gardening and have just completed our third garden in Wanaka over sixteen years.
Fishing is another love. Lake Wanaka is a very productive trout fishery.
My guiding with Ridgeline Adventures seems to be a natural fit with my past farming career, being no stranger to 4WD vehicles and being able to answer most farming questions people ask.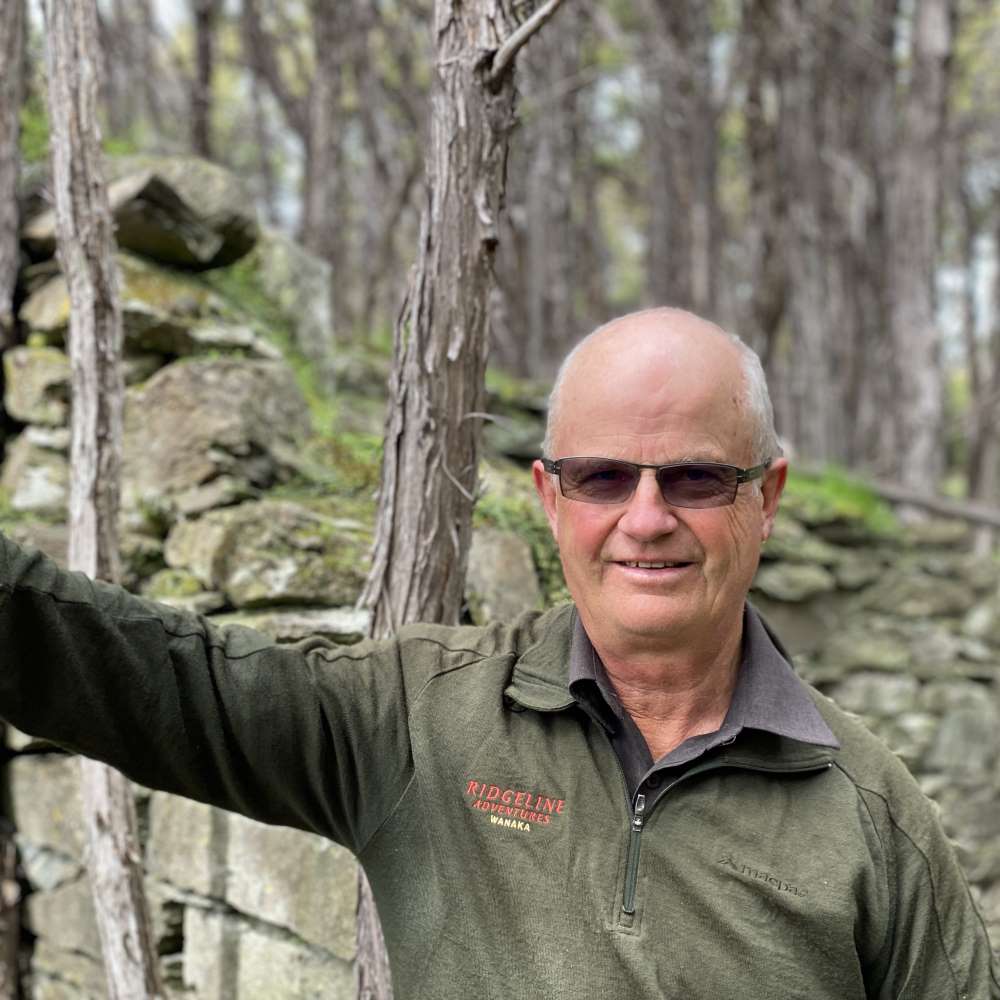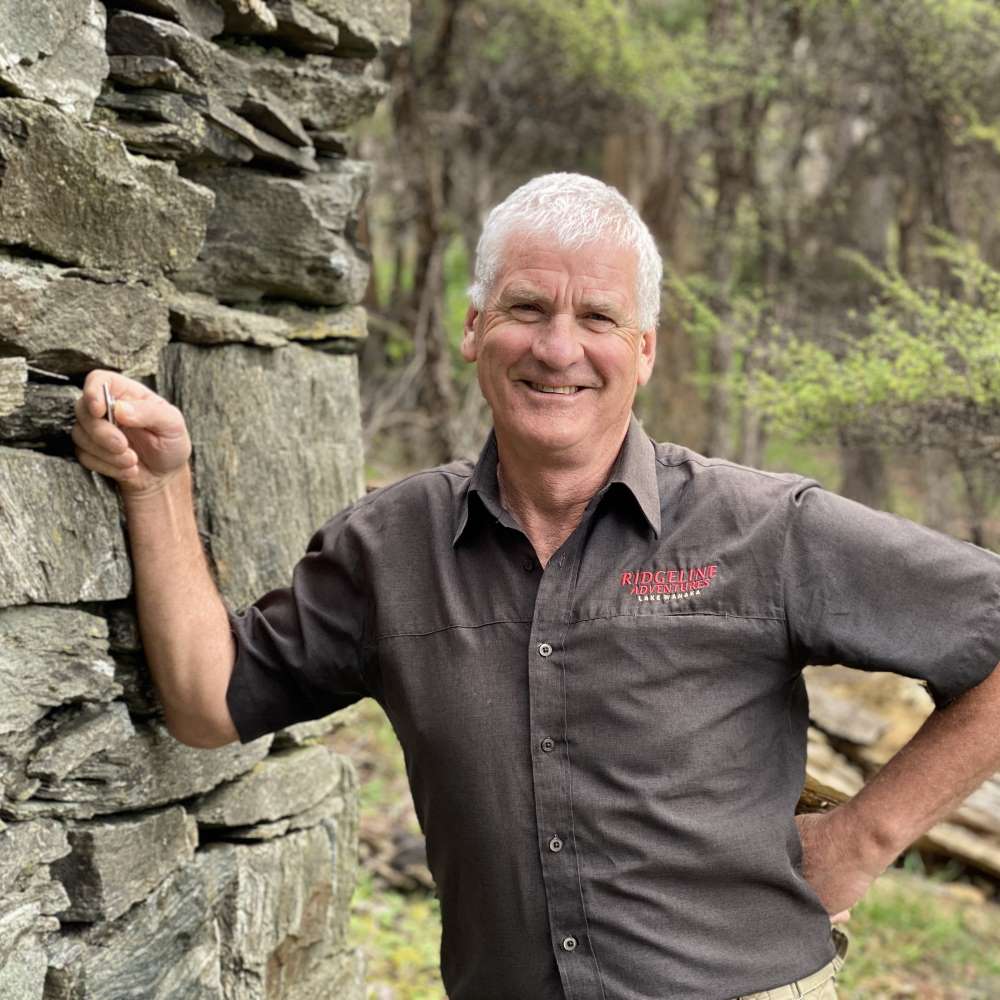 A change of lifestyle in 2009 saw Anita and I move to Wanaka (love the people). I have had a fantastic mix of work and fun since. 8 seasons on Treble Cone, skiing and working (love the people). Biking which is my passion (love the people), Ridgeline guide which is incredible (love the people). Water skiing, boating, bike guiding, and a touch of nostalgia by managing a deer velvet herd on a local high-country station.
My former life was as a deer farmer in Gore for 32 years and my passion for people and community saw me heavily involved in Theatre both onstage and behind the scenes and 3 years managing a multipurpose theatre. Fun times but not as much fun as life is now.
My position as a driver/guide with Ridgeline Adventures is a natural progression following a lifetime of work and leisure in the natural world. 
I really love sharing our amazing local attractions with other people, and especially enjoy the interaction with our guests.
My farming background came from 40 years on our 1000Ha family sheep and beef cattle property in West Otago, assisted by my wife Lyn and our three sons.
In 2001, when our eldest son took over the farm, Lyn and I shifted to Wanaka.
For the following 18 years I realised a childhood dream, and with my own team of dogs, worked as a shepherd on many Upper Clutha stations.
Although my dog team is now dispersed, I still regularly help out on various local farming properties.
Wanaka is a great base for all my current leisure pursuits; tramping, skiing, mountaineering, jet boating and bridge.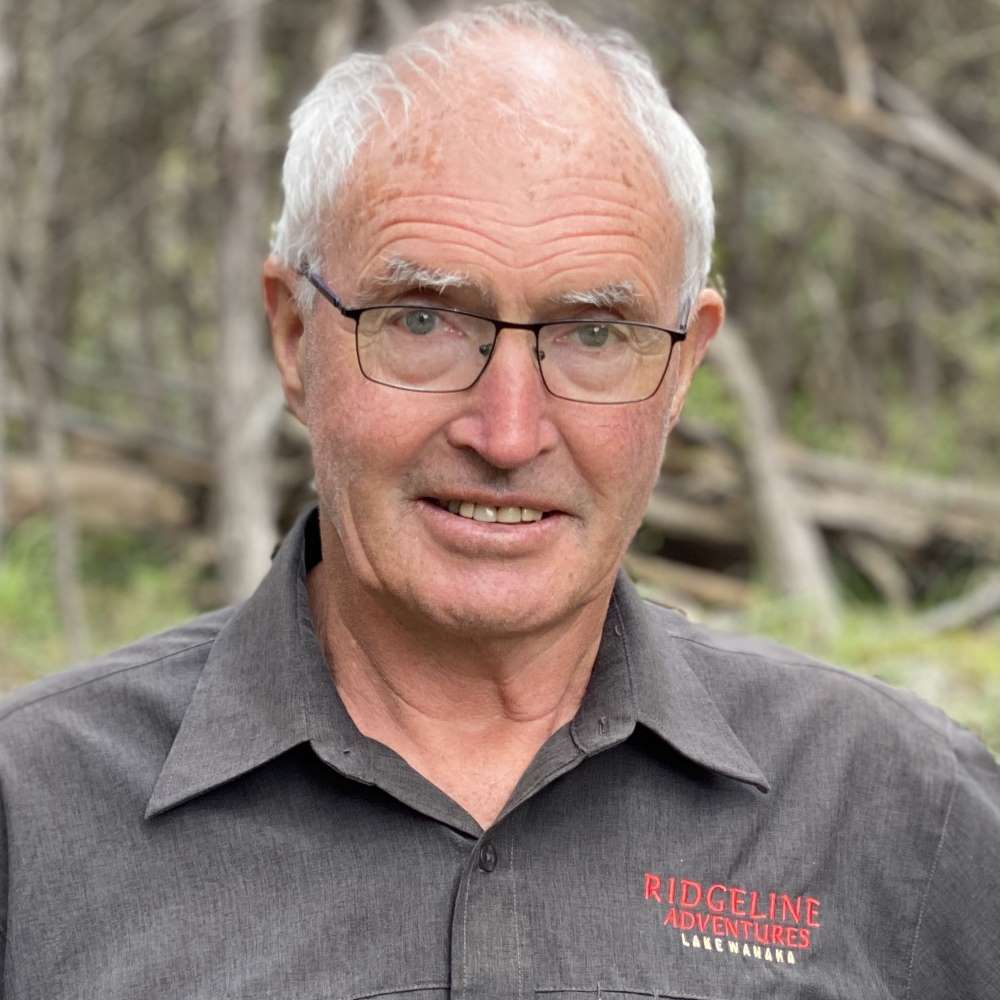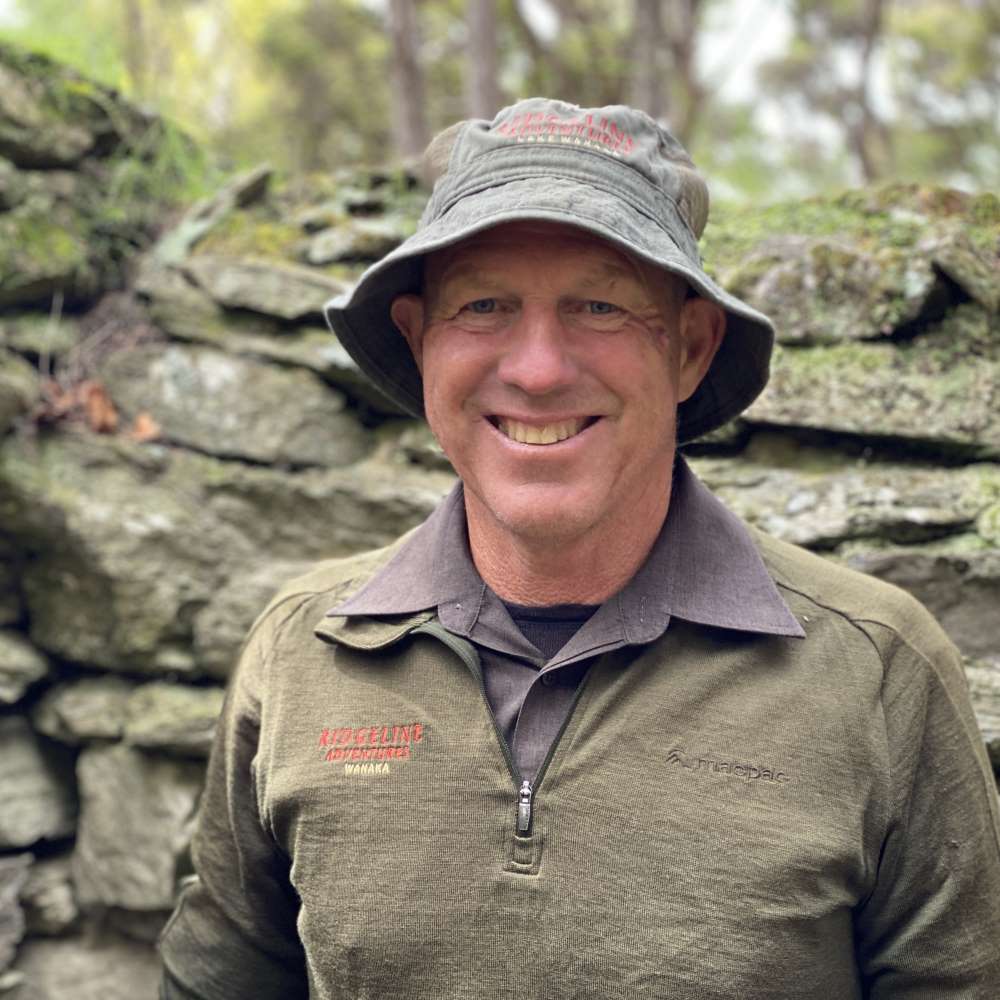 Having farmed sheep, beef cattle and crops in the Nelson/ Tasman district for 25 years, I decided it was time for a lifestyle change. My wife and I moved to Wanaka in 2017 and I started driving for Ridgeline Adventures enabling me to show off some of New Zealand's fabulous scenery with it's creations and history while retaining the ability to stay connected to and portraying farm life balanced with the seasonal cycles of nature. 
I was raised on a Southland sheep and beef cattle farm. Most of my working life was spent exporting New Zealand food products, to North America and many countries across Asia.
Business and private travel has allowed me to visit over 50 countries, affording an opportunity to learn about many cultures and enjoy a diverse range of cuisines.
This travel also created a deep appreciation of just how special the Wanaka and Central Otago region is. And now, working for Ridgeline, allows me to help visitors visit and understand some of the most special areas; ones that would otherwise be inaccessible.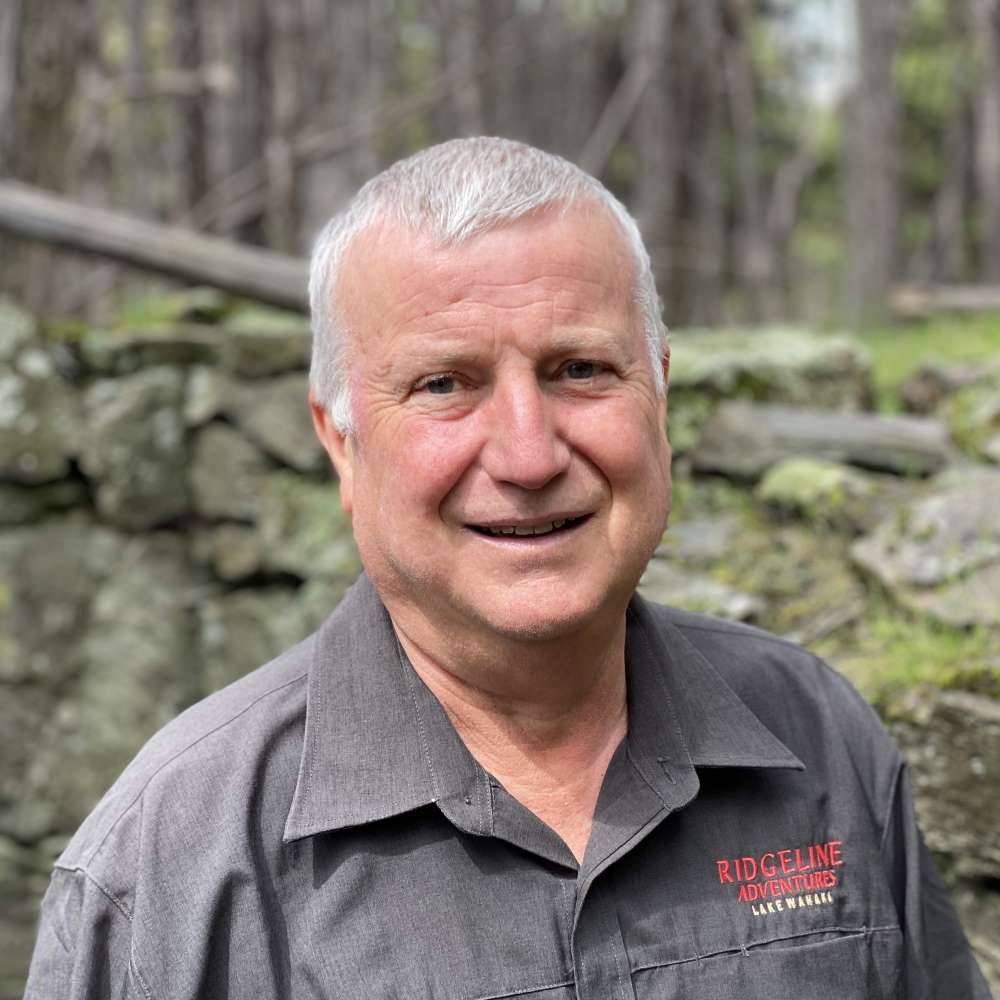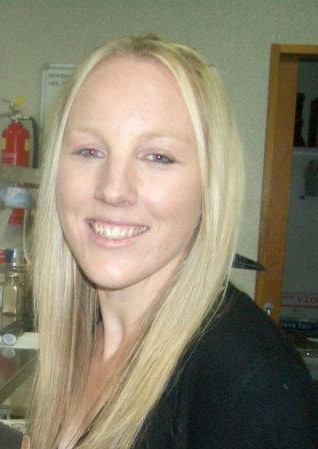 Some might say I am a bit of a rare and endangered species being a real life Wanaka local I grew up playing sport and being immersed in nature. getting thrown in the deep end and being taught how to navigate the outdoors from a young age. I have been working in the Sport and Adventure Tourism industry for 20 years, starting with completing a Sport and Recreation Diploma in Dunedin, and stints in Operations for rugby and soccer organizations.
in 2014 Japan and Canada came calling, where I spent my days guiding clients in the mountains and on via ferrata. After 2 years and an expired working holiday visa, I headed back home and continued guiding and doing operations for various local adventure tourism operators. Whether it be climbing, mountain biking, hiking, kayaking – Wanaka always has something fun to do in all weather conditions, and no day is like any other when living in Paradise!