Wanaka Lake cruise + Island Walk + Wild Hills 4WD Safari
This full day experience combines Eco Wanaka Adventures – Lake Wanaka Cruise & Mou Waho Island Nature walk with our spectacular Wild Hills Off Road  Safari. There is simply no better way to experience the very best of Wanaka's raw natural beauty in one day. Best of all Eco Wanaka is just as focused on conservation as we are. You'll be tree planting on Mou Waho Island with them and checking stoat traps with us. The best possible way to give back to Wanaka while experiencing Wanaka's finest scenery and hospitality.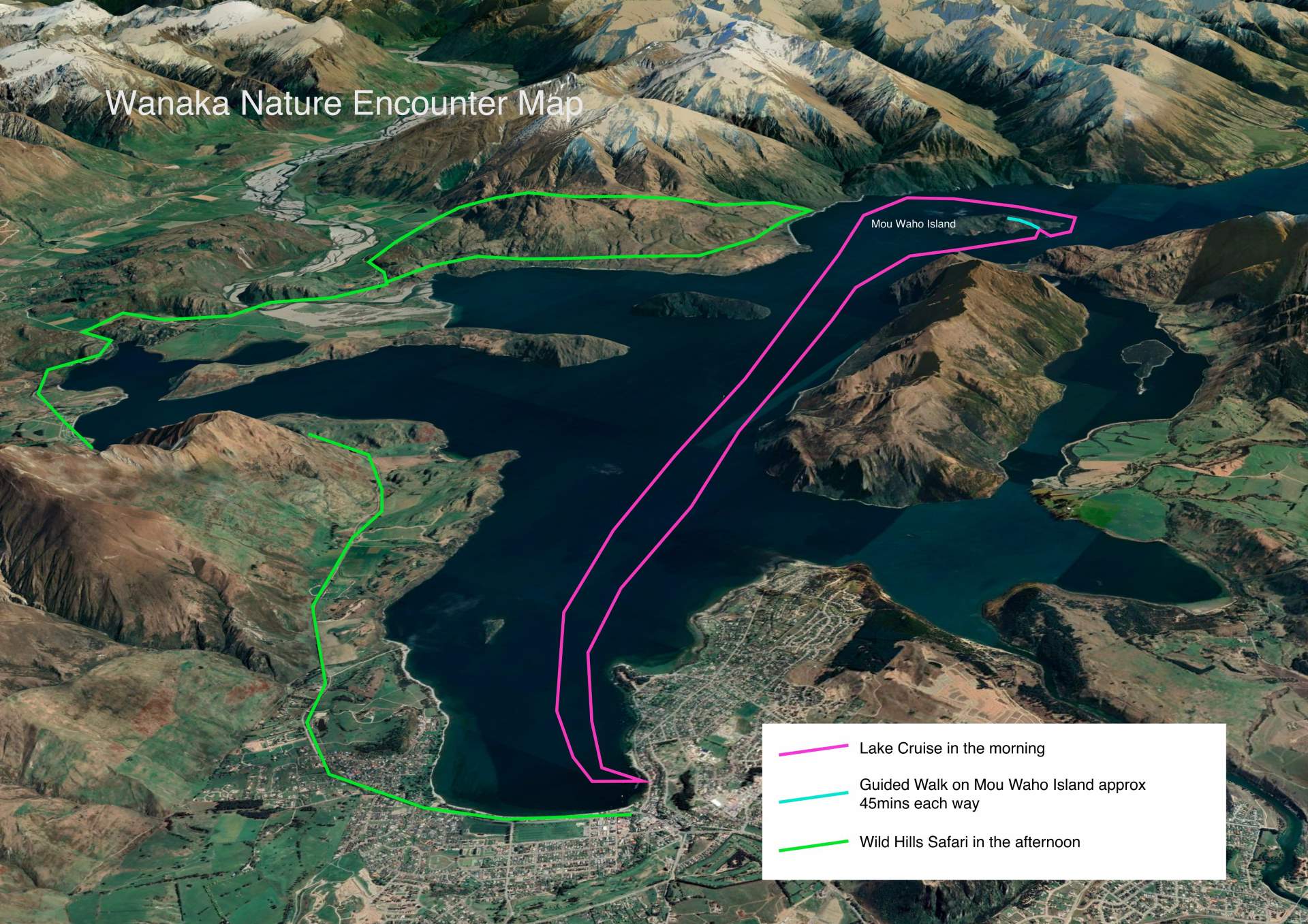 Pick up Wanaka
Adult $514 per person
Child $315 (14 and under)
Private $3594 (1-6 passengers)
Private $6168 (7-12 passengers)
Pick up Queenstown
Adult $874
Child $390 (14 and under)
Private $4714 (1 -6 passengers)
Private $7888 (7-12 passengers)
Morning boat cruise to Mou Waho Island Nature Reserve on Lake Wanaka
Guided walk to summit to reveal island's secret – an island on top of an island!
Personal audience with rare native birds including Weka, Bellbird, Wood pigeon and Tui
Help the environment by planting your own native tree on the island
Explore Wanaka's great cafes or restaurants (12:30 -1:30pm) between trips – at own cost
Afternoon: Enjoy an off road journey exploring the private backroads of an iconic Wanaka high country sheep, cattle and deer farm, stunning views, European heritage sites
Enjoy a stroll through alpine meadows and ancient forests
Leisurely afternoon-tea in the mountains
Views across to LOTR and Hobbit filming locations.
Suitable for:
Those who are after the best lake and land experience in Wanaka with a focus on conservation and giving back to nature
Duration: 
Full Day
Allow 7 – 8.5 hours 
Season:
All year round
Includes:
Pick up / Drop off from Wanaka locations

Private access to ?

Expert local guide.

A leisurely walk (approx. 7 km) through an alpine meadow on a well-graded trail with incredible wide-open views of Lake Hawea and surrounding mountains

Hiking poles

Delicious freshly brewed coffee and our famous fruit cake at our exclusive alpine cafe


Fitness level required:
Suitable for all fitness levels!